Rental Information
LOOKING FOR A PARTY OR
MEETING ROOM?
PLANNING A BUSINESS MEETING?
WANT A ROOM FOR A BIRTHDAY OR ANNIVERSARY PARTY?
SEEKING A PLACE FOR A WEDDING OR BABY SHOWER?
NEED A QUIET SPACE FOR COMPANY TRAINING?
TEAM NEED A LOCATION TO PARTY AT THE END OF THE SEASON?
YOUR FAMILY REUNION TOO BIG FOR YOUR LIVING ROOM?

The Rice Lake Veterans Center has a private, handicapped accessible,
room available for your use. This 22' x 40' room is complete with
banquet tables, chairs, and an adjacent kitchen for a reasonable fee.

A Full Bar is available upon request.
&nbsp
Rice Lake Veterans Center
1404 Macauley Ave.
Rice Lake Wi. 54868

For more information and cost, stop in or call 715-236-7623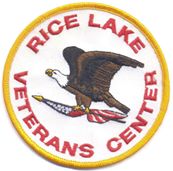 Veterans Still Serving America!